Don't Just Study- Party!
University is not all about getting an education it is also a life experience that you will remember forever. The friends you'll make, the sports teams, the parties you'll go to and the fun campus antics you'll get up to. There is no reason you can't have a good time while getting an education. The Princeton Review, Playboy Magazine and several other websites publish an annual list of top US party schools.
Pennsylvania State University, Pennsylvania This establishment gets top marks for Lots of Beer. The campus has raucous house parties, a packed bar scene and huge parties to celebrate when the Nittany Lions win. Heavy drinking is required on State Patty's Day (a twist on St. Patrick's Day) and day-long fraternity parties.
West Virginia University, Morgantown, WV This university takes the proud position among the top 5 for "Where Students Study the Least." Partying starts at the beginning of the year with the FallFest, a non-stop concert and party in the first week of studies.
University of California – Santa Barbara, CA How many universities do you know with their own beach? The beach and sunny carefree California atmosphere sets the scene for parties. The university features in the top ten for Hard Liquor, Lots of Beer and Happiest Students.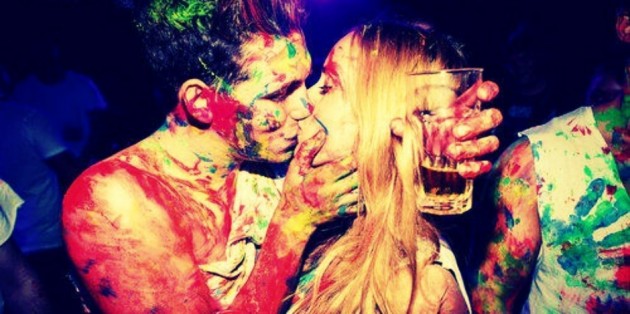 Syracuse University, NY Syracuse has always been among the top contenders for Best Party School but in 2014/2015 it took the prized #1 position. The students are obsessed with their sports teams, packing the on-campus stadium and following the games the parties begin. The campus has a dynamic Greek life, loads of social events and the annual Mayfest means a day-long party.
University of Iowa, IA In addition to being among the top party schools Iowa was also voted #1 for Hard Liquor and #9 for Lots of Beer. When the Hawkeyes play there are raucous tailgate parties and being quite an isolated college Iowa students tend to create their own fun and games.
London School of Economics, UK There is no campus life to speak of but being in the heart of London the students have the pick of top bars and nightclubs. Any central London Uni will be good for partying but remember beer and entrance fees are high in the capital.
University of Manchester, UK Students across Britain know that this is the place to party. Not only are the students on campus into celebrating whenever there is an excuse the city is also full of bars and nightclubs where students run riot.
McGill University, Montreal, Canada Voted the top party school in Canada on many "best" lists the students at this school benefit from the laid back attitude in Montreal to sex, clubbing and all things fun. Legal drinking age in Canada is 18. There is a 3:2 male-female ration among students and it is not far from the bright lights of the big city of Montreal.